Considering it has been over two months since my last blog post, I am struggling with the inevitable question of whether or not I should just give up blogging all together? Deep down, I know that I do not want to do that. But with our wedding now over and moving on into a new year, I have decided that it would be good for me to journal about what's been going on in my life on at least a weekly basis. So for now, I am going to try to start again by committing to weekly posts...regardless of whether anyone reads them or not.
In the past years, I have often loved going back and reading journals I wrote out to see what was going on and how I felt at that point of my life. It is really encouraging and causes you to re-evaluate yourself internally.
Anyway, for now, here's a recap of what's been going on with us Beevers during the last several months...some good, some bad...but life nonetheless.
OCTOBER
We travelled up north to Redding, CA to visit Mr Fix It's brother and his in-laws for the celebration of a family member's 60th birthday party. It was a quick, pop in/pop out weekend trip but it was super fun to see Mr Fix It's parents and the other family members that live up in Northern Cali. The party was a costume event and so being the weekend before Halloween, it was the perfect opportunity for us to test out our costumes: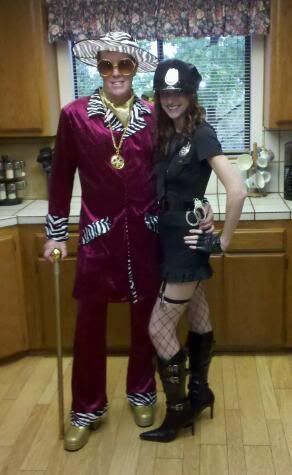 (I apologize for the quality as most of these photos were taken on my cell phone camera)
Oh and did I mention that Mr Fix It won best costume?!?
We finished out October at a Halloween party at a neighbor's house. This was the first time for me to really hang out and get to know all the neighbors on our cul de sac since I had just moved into Mr Fix It's home 5 months earlier. Needless to say, I was a bit concerned when I was served the following Deviled eggs: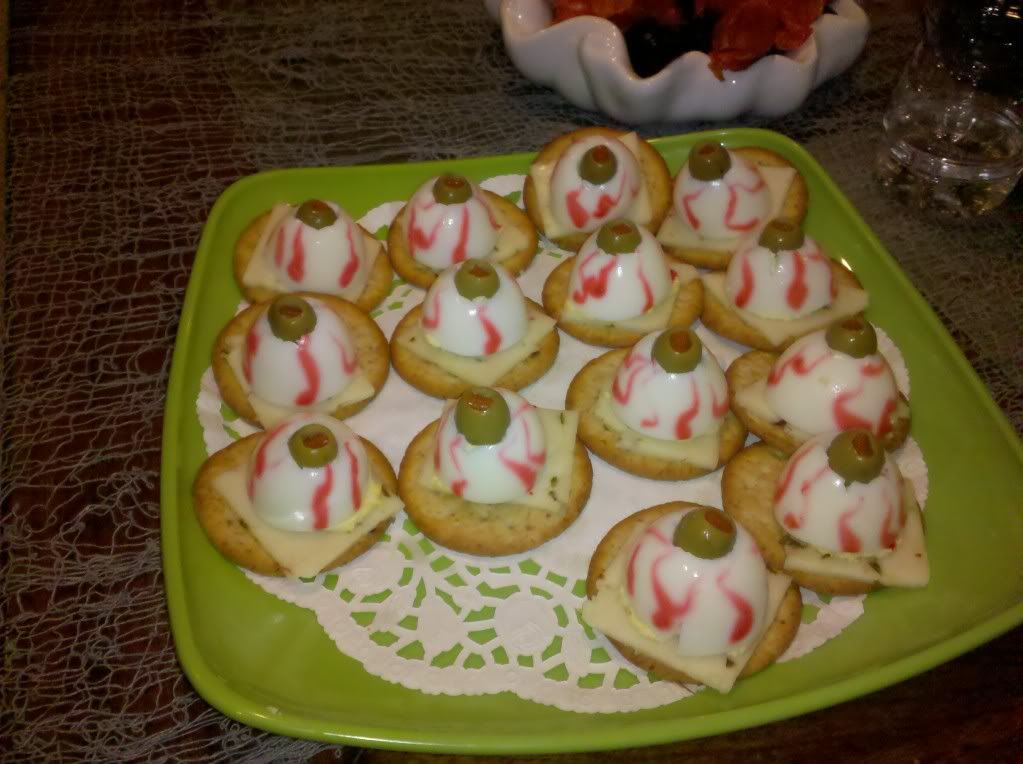 After that, I took a tour of their house since Mr Fix It had done a lot of work on it for them. I really flipped out when I walked into the bathroom to find this waiting for me: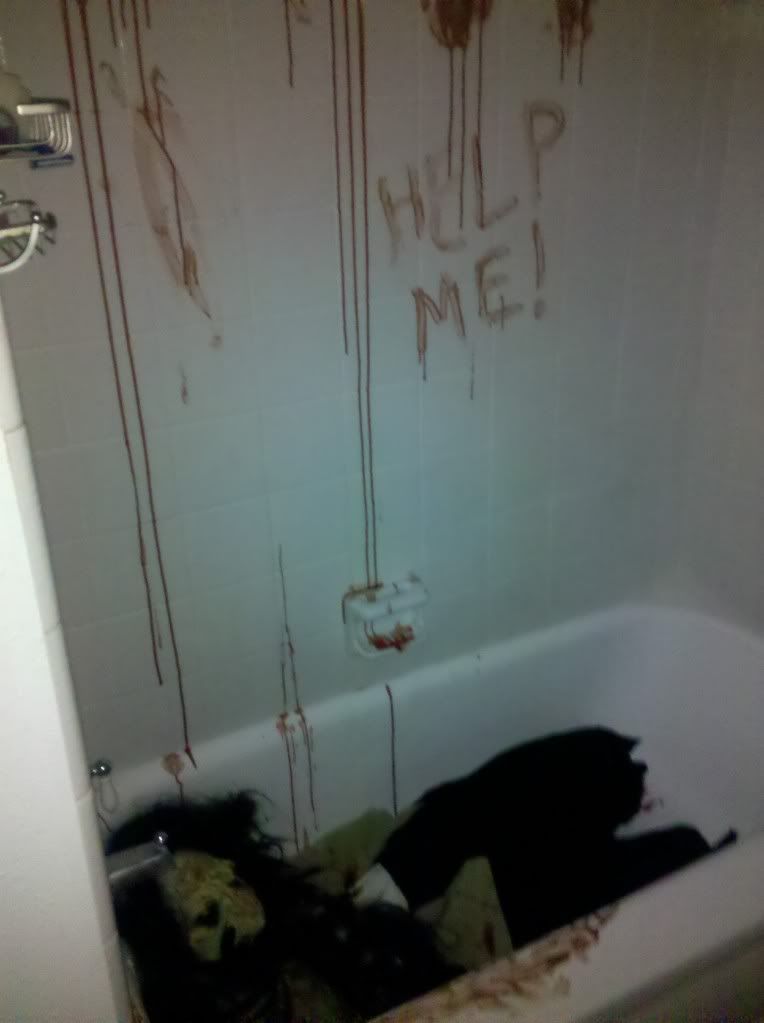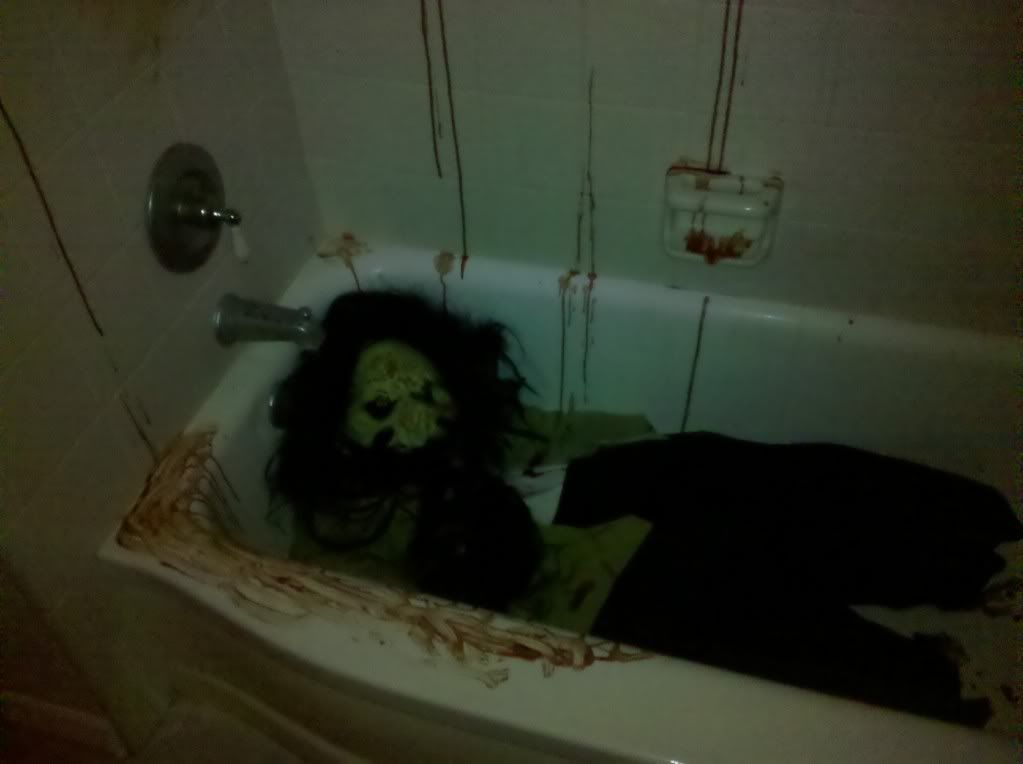 In their defense, our neighbors are HUGE holiday freaks. They love to decorate and go all out in their yard and their house. It was actually quite fun to see all that they did around the entire place.
NOVEMBER
Of course November ushered in the holidays. And as you may remember from one of my last posts, I had my first Thanksgiving ever (without my hubby with me) in our home. We had about 20 family members there and I mostly did everything myself. I forgot to take pictures when everything was first set out so here are a few I snapped after people had started chowing down. The lighting's not great cuz I took them on my cell phone: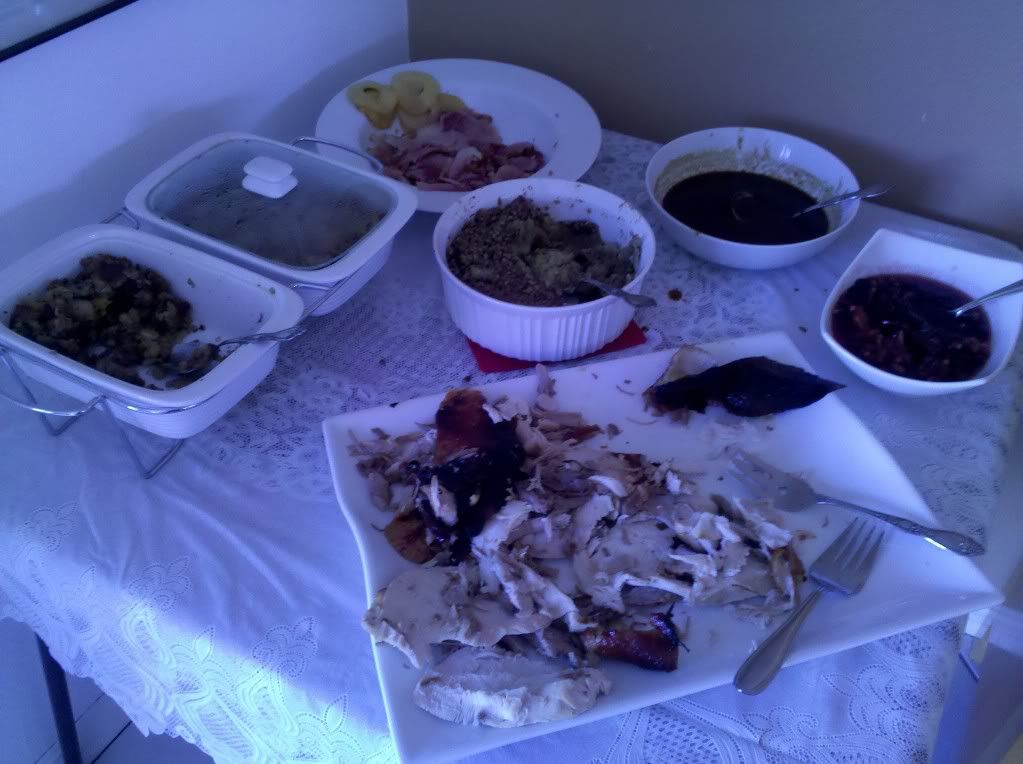 I was so excited to use all of our brand new serving platters and casserole dishes.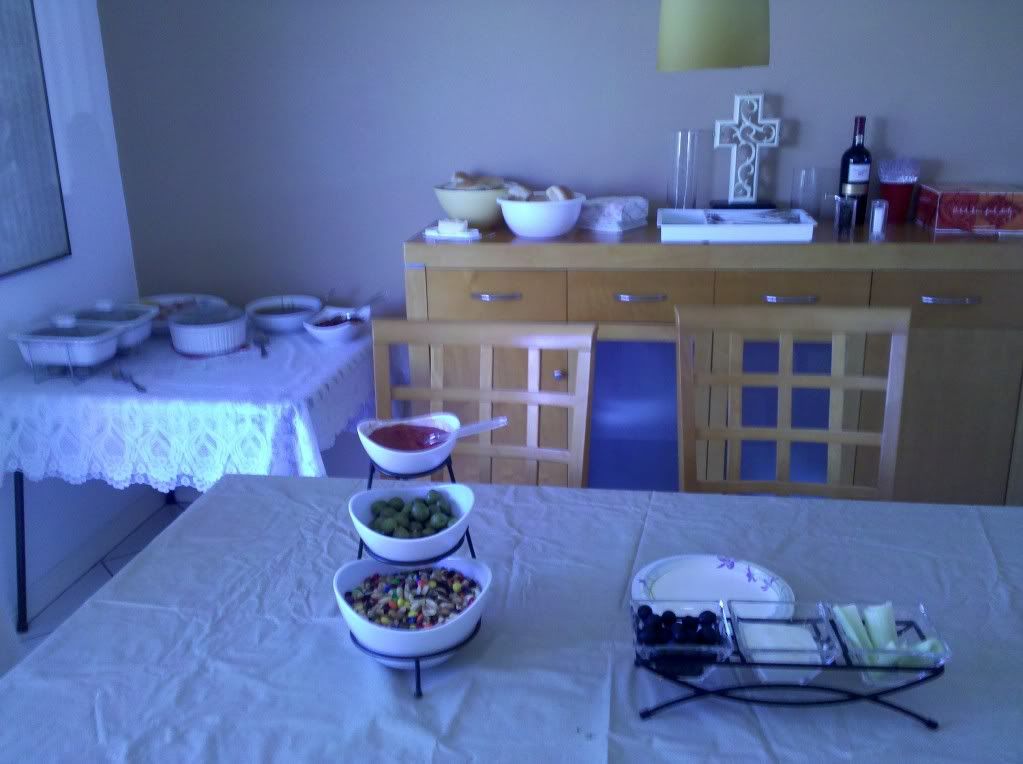 All of these items were wedding gifts!!!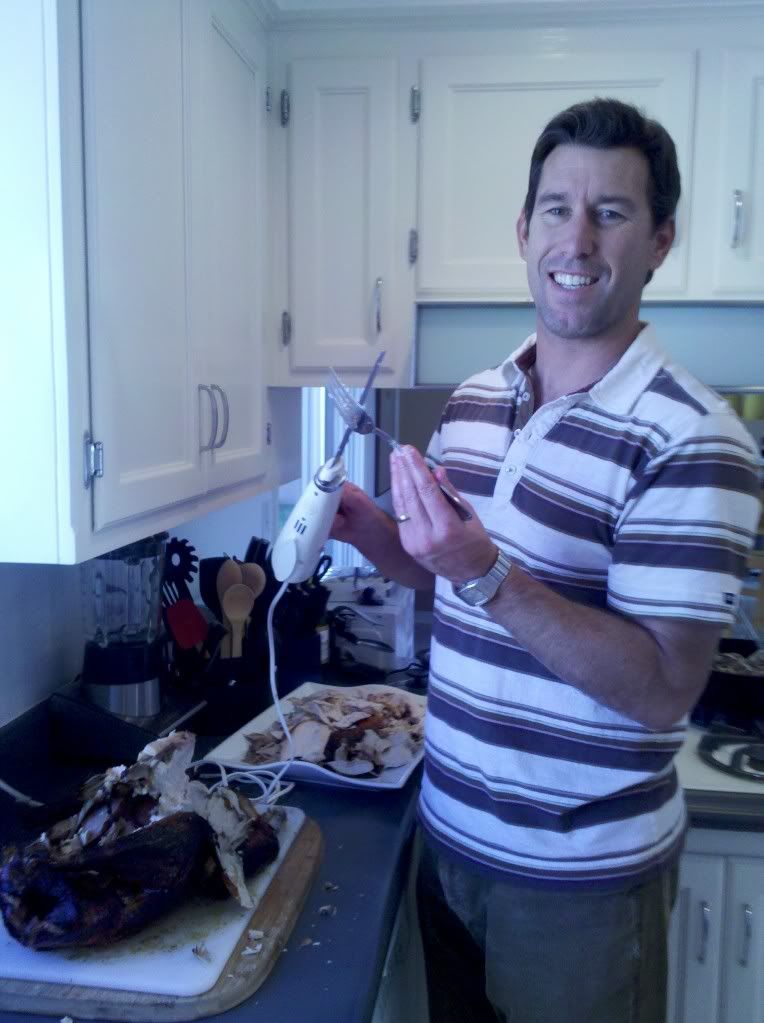 My brother-in-law did a fabulous job of carving up the 20 lb bird!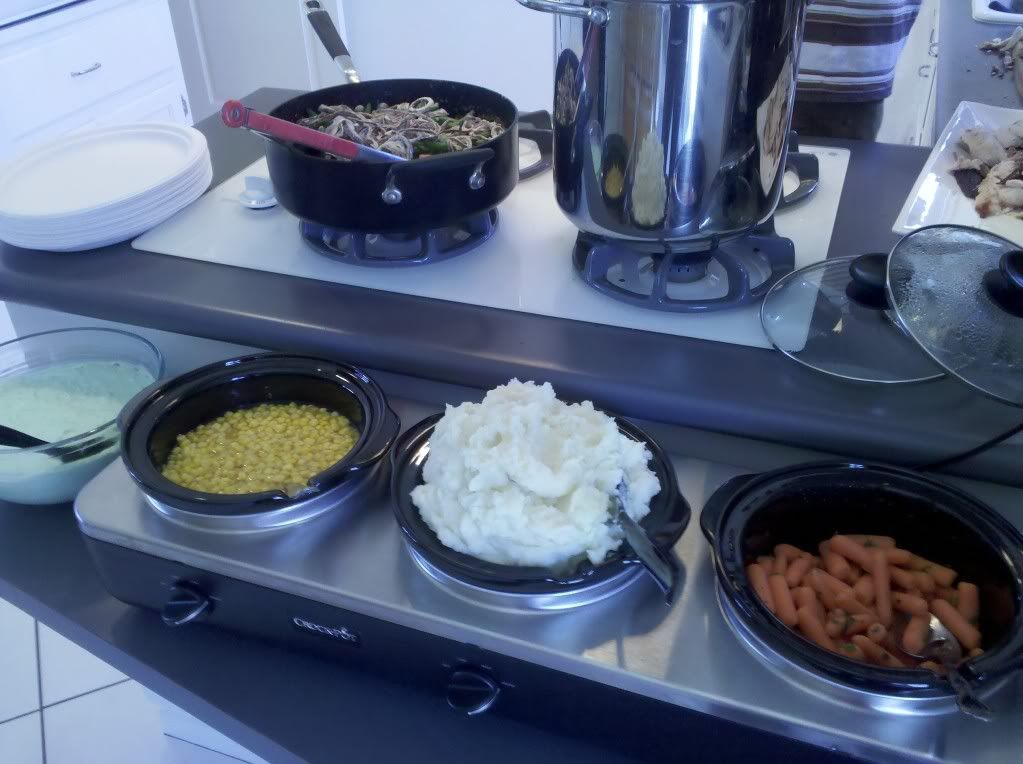 Again, I got to use a new wedding gift: a 3 pot crock pot/slow cooker! This thing was so cool!
DECEMBER
December of course meant Christmas. Christmas was a little hard for me since I was usually really into it the day after Thanksgiving. I would put all of my decorations out and get so excited to decorate my fake tree. Had to be fake because I liked to leave it up from the day after Thanksgiving until the day after New Year's and we all know real trees don't last that long.
But Mr Fix It is all about a real tree so I opted to wait until about 2 weeks before Christmas to put out all the decorations. Especially because with our new puppy in the house I was petrified he was going to destroy everything! Surprisingly, he did well and didn't really go after anything at all...not even the stockings that I hung from our fireplace mantle.
In early December, I got together with the six girls I had led in a bible study for almost 5 years. We don't meet regularly anymore since I got married because almost all of us are now married and we don't live as close anymore. So we make it a point to get together once a month instead. In December, one of the girls hosted a fabulous tea party and she was excited to use all of her brand new tea set. I absolutely loved this mad hatter style table setting but with a Christmas feel to it. She went so far as to put pictures of us girls at each place setting! I loved it.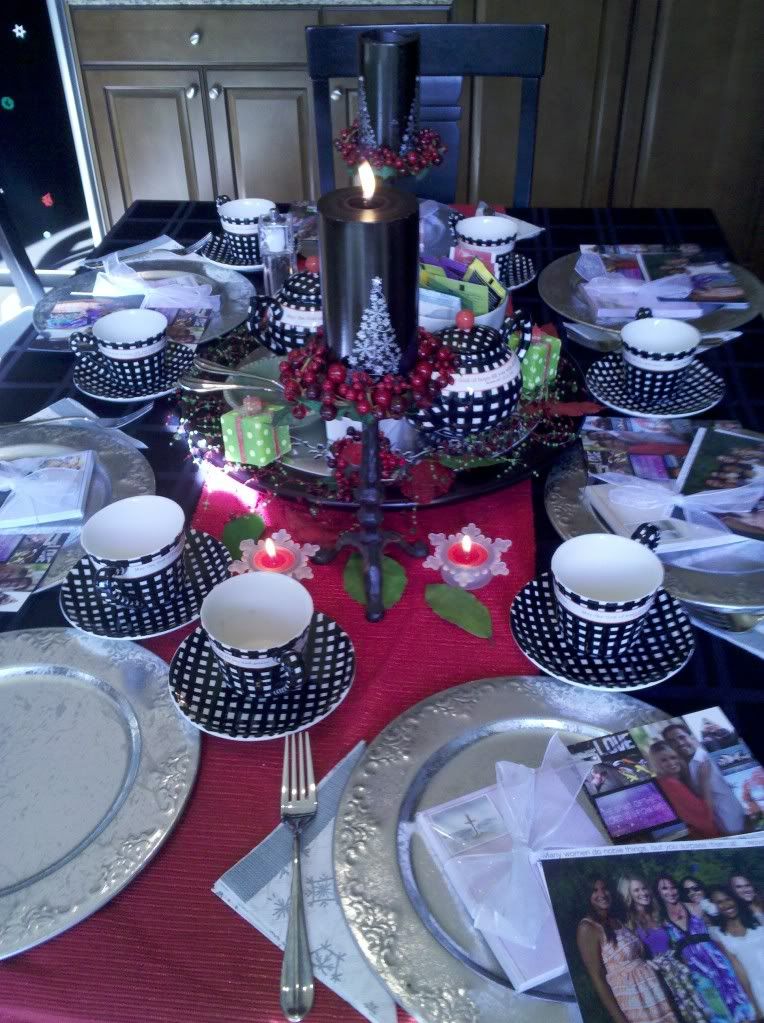 One of our favorite memories of our first Christmas together was driving to my sister's house on Christmas morning. We decided to get up early to go see my niece and nephew open all of their gifts. On our way down to South County we happened to come across this guy driving in a station wagon full of gifts on the 405 freeway!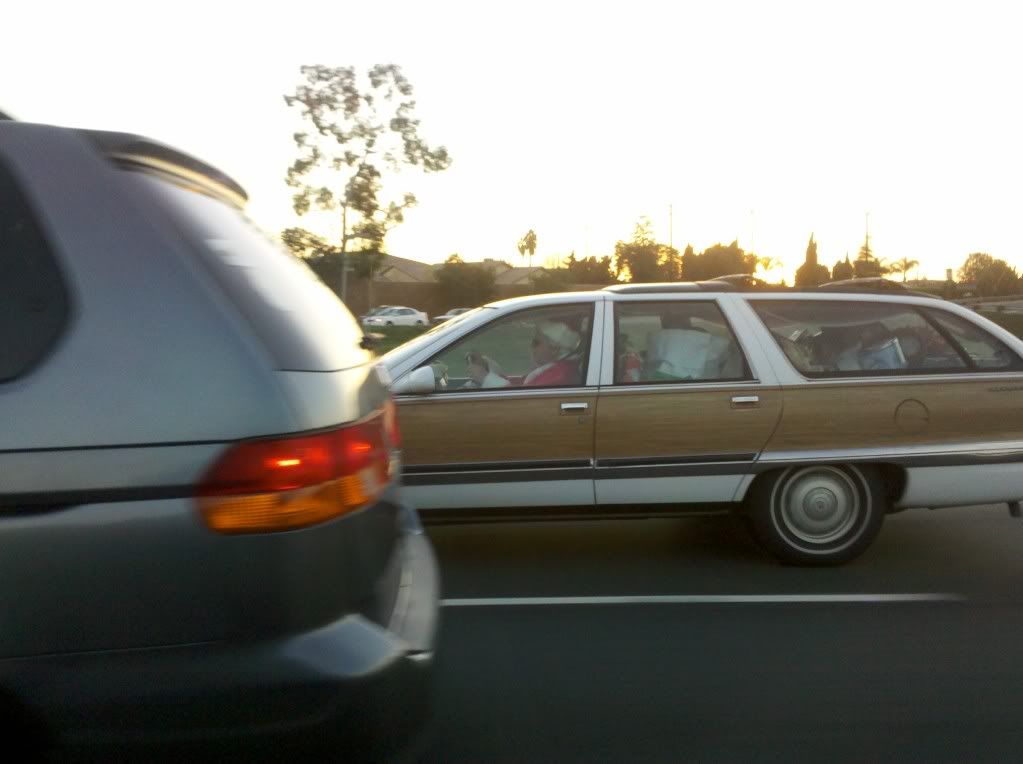 I mean, come on! Does it get any better than seeing Santa on Christmas day driving with a car full of presents?!? We honked at him and he waved and gave us the peace sign with a big smile on his face.
JANUARY
January meant a new year. As much as I was so thrilled with all of the exciting things that went on in 2010 (like oh, our wedding and honeymoon), I was really excited to say hello to 2011 and begin what will hopefully be a great start to our lives together. But in January, Mr Fix It left me yet again for about 2 weeks to go up north to his parent's house to work on a rental property for them. This picture of our puppy, Brody sums up how I felt during that time: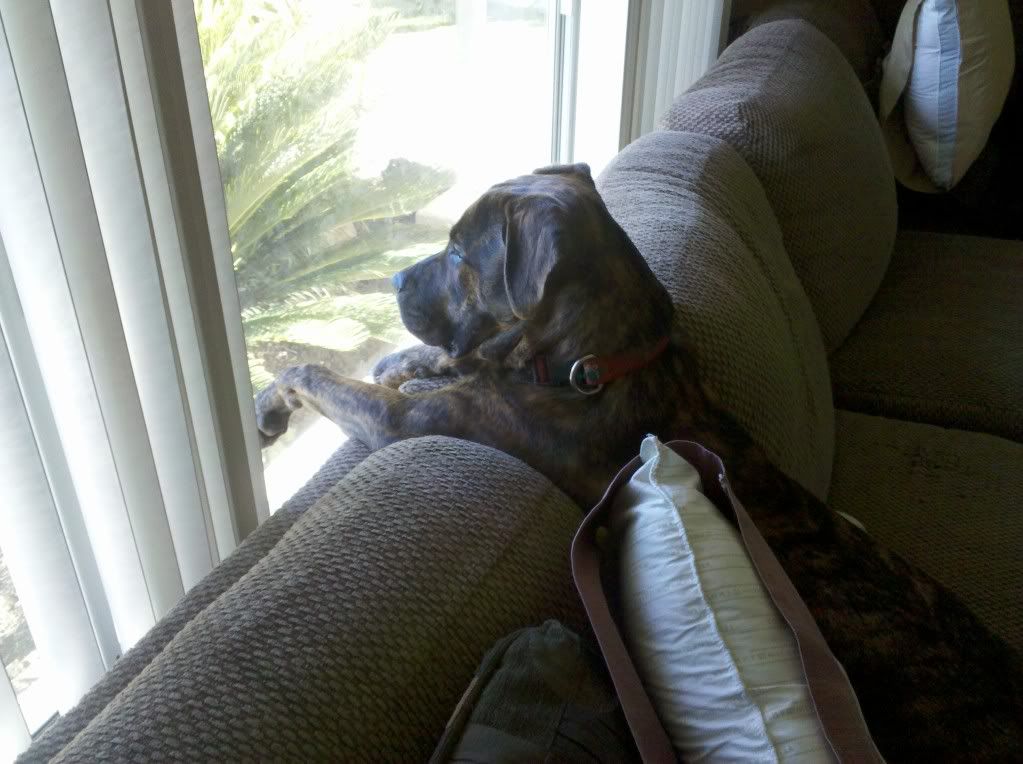 We missed the man of the house and Brody is looking out our front window waiting for him to come home like me! Thankfully, I had my daughter, Little Miss with me to keep me and Brody occupied.
We finished up January with me, Little Miss and my mom taking a quick flight up to Seattle for the last weekend to see my cousin star in a little musical play he wrote. He attends college at Cornish school for the performing arts and I know he'll make it big some day. It was so fun to see him act.
While we were there, we took in some of the sights...like the very first Starbucks ever!
My mom, Little Miss, my cousin (the future star), my aunt and me
We checked out this silly wall of grafiti near Pike's Market (a popular outdoor market). While we were there, we went and had lunch at the restaurant where Tom Hanks and Rob Reiner filmed a scene for the movie Sleepless in Seattle.
We walked on the waterfront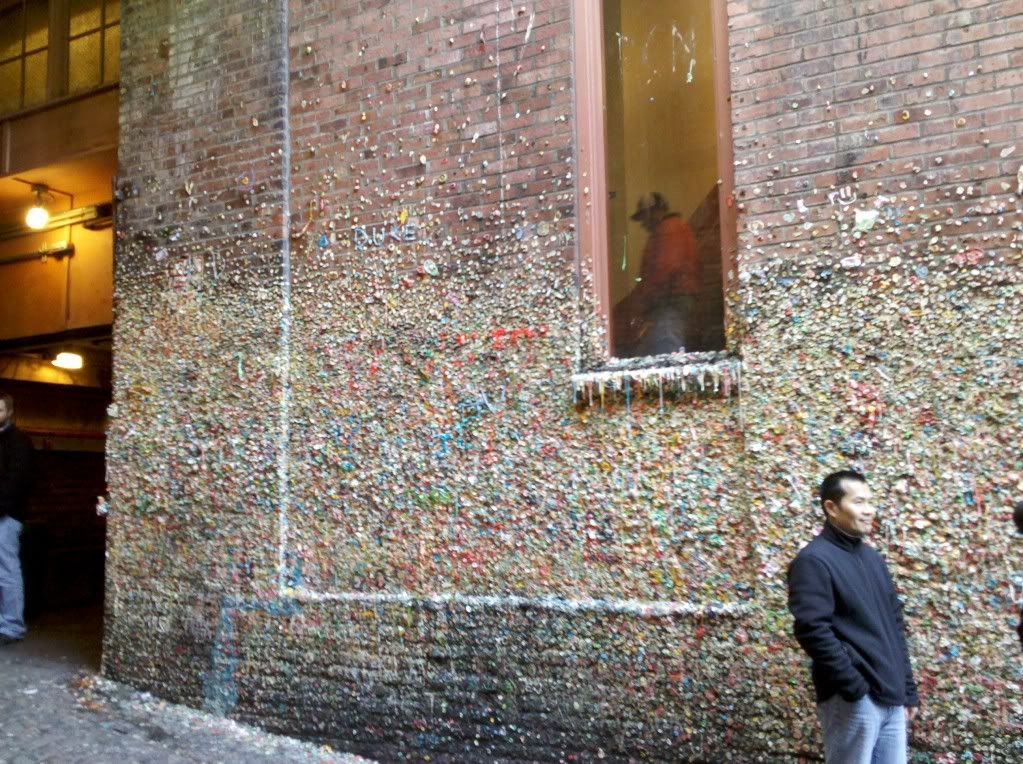 They made us check out this stupid wall of gum.
A dumb tourist site in my opinion where people stick their chewed gum.
And of course we saw the Space Needle (as well as Qwest & Safeco Fields)


FEBRUARY
Of course, I don't have photos for February yet since today is the first day. But this will be a super fun month. And here's why:
Sunday is Super Bowl day. Though I am not thrilled with the teams that are playing at all :( I do love me some good football!
The following Wednesday is my daughter's actual birthday and then that Friday Mr Fix It is taking me to Vegas for the weekend to celebrate Valentine's Day.
The weekend after that, an old friend from high school (who just happens to be the President of the World Poker Tour) got us tickets to a celebrity invitation reception and event that they are holding near our house. Mr Fix It is a huge poker fan so we are super excited about that.
The last Friday of February, I am throwing yet ANOTHER surprise party for Mr Fix It's birthday! His brother is flying in from Sacramento to surprise him along with 20 other friends who will be waiting for him at our local Lucky Strike Bowling Alley and Lounge.
Oh and Little Miss is taking her driving test in the middle of the month as well. We bought her a car from a family member and she is dying to be able to have her own car and drive herself to and from school finally. Scary stuff to see my little one growing up but I am excited about all the new changes coming.
Thus I am so thankful for February and all the celebration it is going to bring. On the downside, Mr Fix It and I lost a very dear close friend of ours about a week and a half ago. She went to Hawaii after our wedding (in July) and came back with a nasty cough that wouldn't go away. The doctors soon found out it was lung cancer and once treatment began, it soon spread to her brain. We were devastated when we found out they only gave her a month to live when it was determined that the treatment was not working whatsoever. She lost her battle on Wednesday January 26th. Mr Fix It and I cried and are trying to make sense of why someone so loving and genuine and beautiful was taken so soon. But her boyfriend (our dear friend) summed it up best when he said "I guess God just wanted her back sooner than we had all hoped."