I never did understand those brides who don't give a care or a thought to the potential weather related issues surrounding the biggest day of their lives. After all the planning and thought that goes into providing your guests with a beautiful experience and level of comfort during your nuptials, you'd think that they would consider the chance that there could be (God forbid) rain on the scheduled day!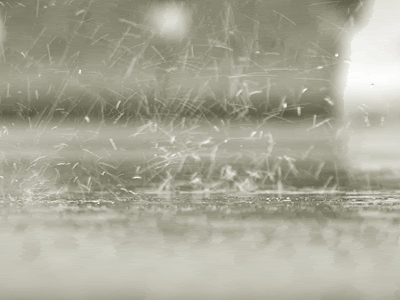 That's why when my fiance informed me during our booking of our venue that they would give us a discount if we booked our wedding on any weekend in March as opposed to the April dates I was looking at, I emphatically told him no way, no how! I know it seems silly not to take the discount and have our wedding three weeks before the day we finally settled on...but in So Cal, March is notoriously a wet rainy month. And though the saying goes "April showers bring May flowers" the truth in fact is that April is not typically a month of showers at all. At least not where I live. It does however get pretty cold at night in April.
Our reception is indoors but is not heated (it's a pretty old property). But the property managers and exclusive rental company work together the week before the wedding to confirm what the weather conditions are like. If it is cold or rainy, they bring in heated tubes and pump the warm air into the reception area. The ceremony is held outside in a cemented teatro and we will also be confirming with the rental company the reservation of a large canopy tent to cover the seated guests should, God forbid, it rain during the ceremony. But this past April 16th at 5:30 pm (the exact day and time our ceremony will take place), I visited our venue with my coordinator and daughter and snapped this shot of where the ceremony will take place.
Gorgeous, right? Sunlight barely peeking through so it's not too hot and the guests don't have to wear sunglasses. And also, this will help with the tv screen that will be set up showing a video out here at one point (more on that later). And this is a shot of the bridge that the bridal party makes it's way across as we head down the aisle to the altar:

I am in awe...oh how I pray that we get this same beautiful weather on our big day of April 16th, 2010!

This past April, I kept a log of the temperatures, sky, conditions and rainfall in our area and the city where the venue is for the entire month of April. There were only 3 days where it rained and those days were at like midnight and just light drizzles. Actually, this past April was summer time hot on most of the days...though the night time temperatures dropped to pretty cold.
I also kept track of the sunset times so I could gage how our ceremony will be at the 5:30 pm scheduled time and when it will get dark during cocktails. If all goes according to plan (and historical weather info), we should hopefully have a gorgeous spring wedding day filled with nice temperatures during the day for photos and beautiful sunlight and shade at ceremony time. We also rented a couple space heaters for the cocktail hour just in case it's too cold as the sun is setting. This is what they'll look like in our cocktail area:
I highly encourage every bride to visit
http://www.weather.com/
when beginning your selection of your wedding date. You can search historical weather information for almost any city up to at least three years prior. And they have a Wedding Weather Day planner that allows you to put in your dates, times and locations and it tracks your wedding weather predictions and e-mails you updates as the day approaches.
I know I am a bit over the top and anal when it comes to the silliest details regarding our wedding but the weather is a pretty big deal. You don't want guests sweating to death while they wait for you to walk down the aisle outside for an hour before they can get in the air conditioned reception room (like at my sister's wedding) or guests running through the mud from their cars to some little covered patio that everyone has to hide under until the raindrops stop.
Have you all thought about this or made any plans regarding your potential weather hazards? Did you select your wedding date/season based on weather?