So at dinner with a bridesmaid a while back she asked if I would have a shorter engagment if I had to do it over again. I told her maybe by a couple months but definitely not anything less than a year (our engagement will be 16 months total). I have so many little things that I have been researching and creating and coming up with, I just can't imagine rushing to handle all of these little but personal and big impact items and surprises. Either I wouldn't be able to do half the things we've been planning or I would be a manic stress case and not enjoy the planning process or the big day.
As organized and anal as I am, I love taking the time to think things through and then make a well thought out decision. Now don't get me wrong, I work well under pressure for sure...but this is my once in a lifetime opportunity to plan the most amazing event of me and future hubby's lives!
About a month or two ago, I had taken on the task of reviewing the catering and rental item contracts. I want to be sure to hand my caterer and coordinator a very detailed, easily read plan of attack that shows them where everything should go and how it should be set up so there is no confusion. And it's a good thing I went over everything because I found that we had not ordered a guest book table or the 2 chivari chairs we will need for the bride and groom at the sweetheart table! On top of that, I realized that the round table I reserved for our memorial table was too big and too tall and so I decided to switch it out for a smaller one and move it's location.
The cool thing about my rental company is they are the required company for our venue and so they are super familiar with it and provide these black and white floor plans of how you want everything set up for when they arrive. I took that little image and used some computer programs to add in some color and text to show where all of our linens and such should be placed. Here is a little image of what I came up with (though it is obviously not finalized):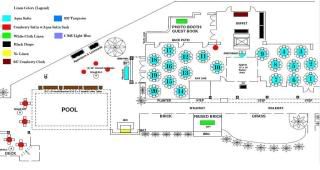 If you
click here
you can see the large version with all the details :)
So what about you, ladies? Are there any items you're glad you revisited or took a second look at? Or are there any concerns you have about what might get missed or overlooked come wedding day?