So after yesterdays rough day, I am excited to talk about something fun and wedding related! I have always said the invitations are HUGE when it comes to your wedding. They are the first thing that your guests will see about your style and personality as a couple and what type of event your big marriage celebration will be. I knew I always wanted something unexpected for our invites...something that shows that we will have a beautiful affair, but expect to be surprised and come ready to party!
Since the fiance is not in love with our wedding colors like I am, I decided to compromise a bit and we decided to go with colors outside of our scheme for the invitations. We opted for an aqua (tiffany blue), black and white theme. The actual color of our invitations will be a metallic pocketfold called Tiffany Blue like this:
So I found the inspiration for my wedding and it's colors from a wedding posted on the blog of Joyful Weddings & Event Coordinators. While there, I also found the custom stationery company who did most of the work for that wedding and I contacted Stacia of
Serendipity Design
and asked her to help me out with our invitation and stationery needs. She is pretty affordable considering you are getting custom work done. I originally planned to make my invitations but decided it wasn't worth it based on the time, effort, printing, etc that would be required. This way, I still get to assist in 'making' my invites.
Here is what Stacia and I have come up with thus far...this is the most recent of our revised invitation:
Outside (will be wrapped with ribbon and bellyband closure):

Inside Pocketfold (inserts on right):

Close up of invitation and wording: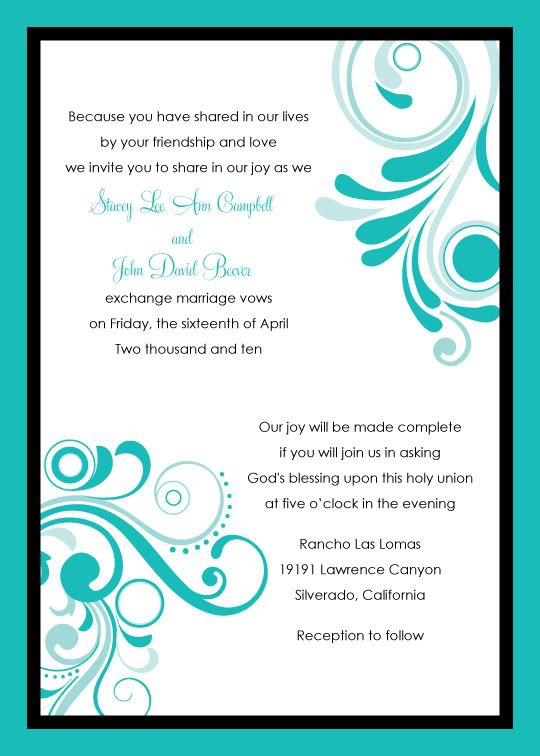 What I love is how the insert cards will be layered such that the graphic design on them flows from one card to the next as if it is one continuous design. I also love that this same graphic design will be incorporated throughout our wedding day on things like the menu cards, place cards, table cards, seating cards, favor tags, etc

Here are some of the inserts and wording (she left off the word 'for' at the end of Please join us):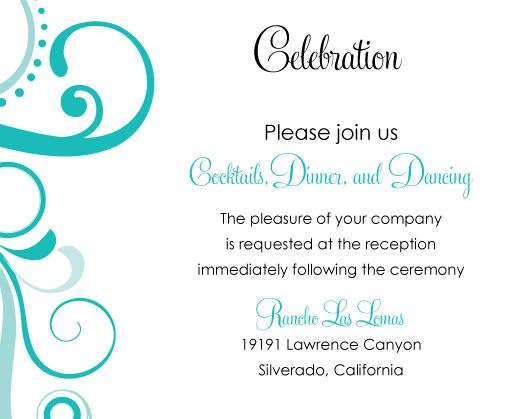 This insert will direct our guests to our wedding web site (I am going to have her space our web site address a little further down on the card so it stands out a bit more):

Here's the very unique part...there will be 4 insert cards in the pocket on the right. There will be TWO, count 'em 2, response cards...one for those who are accepting and another for those who have to decline. The back side of the Response card will have a place for them to list their family's name and number attending/declining. For the decline card, there will also be a couple blank lines for them to be able to write a brief message or well wishes if they can't attend. But the fun part? On the front of each response card will be a photo of my fiance and I. For those who can accept, this is the card they will return: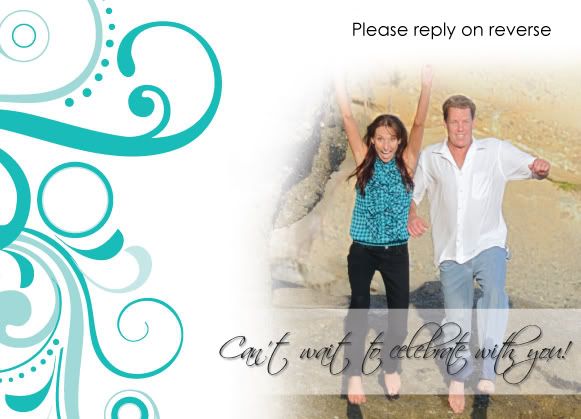 Notice that for our 'accepting' guests, we have placed a line on our invites that indicates how many people they can bring (We have reserved ____ seats in your honor). This way, if we invite a family of 4 with children and we fill in '2' seats reserved then they will know that their children are unfortunately not invited...or vice versa if they are. Of course, we will also be addressing the envelopes to confirm exactly who from each potential family is invited and whether or not a 'plus one' or guest will be allowed. But this extra added little line on the response cards just politely helps ensure that they know how many we are expecting or allowing.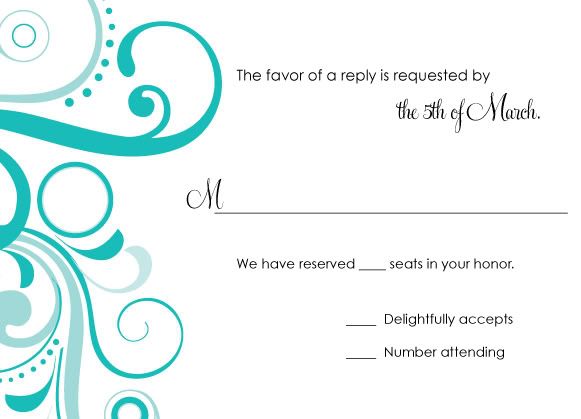 And for those who have to decline, they will return this card: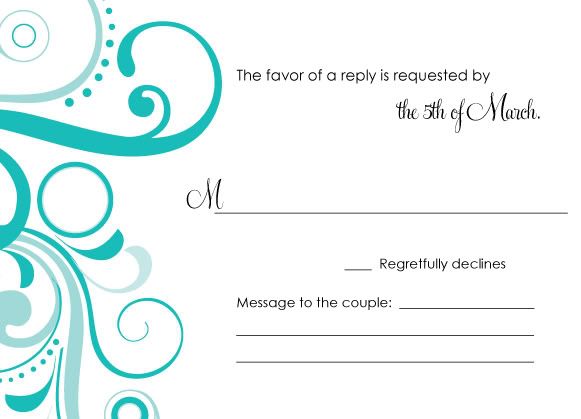 I am not thrilled with how these 2 photos came out from our engagement session so I think we are going to reshoot them. But I love the idea! I think it's so fun and unique and have to give props to my teenager for coming up with it.

So what do you think? Do you have ideas for your invitations or samples you want to share of something fun or creative or your traditional, classic sense of style? How well do you think your invites tied into your wedding theme or decor...did you carry anything from the invites over to the other aspects of the actual ceremony or reception?